Le nouvel album de Prodigy est dans les bacs

Cet article a été publié le : 25/08/2004 à 14:32:32
Dernière de modification de l'article : 25/08/2004 à 14:32:43


Le tout nouvel album de Prodigy, Always Outnumbered, Never Outgunned est enfin disponible depuis hier.





Sept ans qu'on attendait ça, depuis The Fat of The Land... On pouvait déjà entendre le premier extrait du nouvel album sur certaines radios mais cette fois il est là, Always Outnumbered Never Outgunned. Et il... déchire.

Petit rappel de la discographie de Prodigy :

The Prodigy Experience (Nov 1992)


Jericho


Music reach (1234)


Wind it up


Your love (Remix)


Hyperspeed (G-Force part 2)


Charly (Trip into drum and base version)


Out of Space


Everybody in the place (155 and rising)


Weather experience


Fire (sunrise version)


Ruff in the jungle bizzness


Death of the prodigy dancers (Live)

Les titres les plus connus étant Jericho, Your Love et Out of Space.
Music for the Jilted Generation (Juillet 1994)


Intro


Break and Enter


Their Law [Featuring Pop will eat itself]


Full Throttle


Voodoo People


Speedway [Theme from Fastlane]


The Heat [The Energy]


Poison


No Good [Start the Dance]


One Love [Edit]


3 Kilos


Skylined


Claustrophobic Sting

Révélation du groupe et plusieurs hits inoubliables comme Full Throttle, Voodoo People, No Good ou One Love.
The Fat of the Land (Juillet 1997)


Smack my bitch up


Breathe


Diesel Power


Funky shit


Serial thrilla


Mindfields


Narayan


Firestarter


Climbatize


Fuel my fire

Changement de style du groupe qui se "radicalise" pour nous donner une techo plus puissante et plus violente avec des titres comme Smack My Bitch Up (dont le clip avait fait scandale sur MTV) ou Firestarter (repris dans la BO de Matrix)
Always Outnumbered Never Outgunned (23/08/2004)


Spitfire


Girls (with vocals by The Ping Pong Bitches)


Memphis Bells (with Princess Superstar)


Get Up Get Off


Hot Ride (with Juliette Lewis)


Wake Up Call (with Kool Keith)


Action Radar


Medusa's Path (ex Sandstorm)


Phoenix (ex Lovebuzz, 1.9.6.5)


You'll Be Under My Wheels (ex Smoke)


The Way It Is


Shoot Down (with Liam Gallagher)

Les premiers morceau à passer radio sont Girls et Shoot Down (avec la voix de Liam Gallagher du groupe Oasis)
Album violent, album puissant, album pur Prodigy dans lequel on retrouve avec bonheur les Samples du groupe (ces "instruments" électroniques qui font la marque d'un groupe, comme on reconnait du Daft Punk ou les Chemical Brothers dès les premières notes par exemple).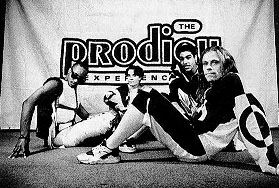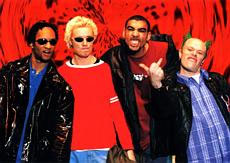 A la fois proche d'un Full Throttle et d'un Smack my bitch up, le premier morceau du CD (Spitfire) donne directement le ton. Le deuxième titre, Girls, n'aurait pas déplu aux Beastie Boys dans le style techno rap de Intergalactic. Les autres morceaux sont tout aussi proches et innovants par rapport aux albums précédents. Du changement dans la continuité en quelque sorte.
Pour accompagner la sortie de l'album, les Prodigy ont eu une idée originale : ils proposent en effet des Remixes de leur tout nouvel album gratuitement sur Internet à l'adresse ProdigyRemixed.com.
Site Officiel : TheProdigy.com
Site Presse : TheProdigy.info. On peut également y écouter des extraits de l'album en streaming audio, des photos, des vidéos, des informations sur le groupe,...